MICRO SYSTEM T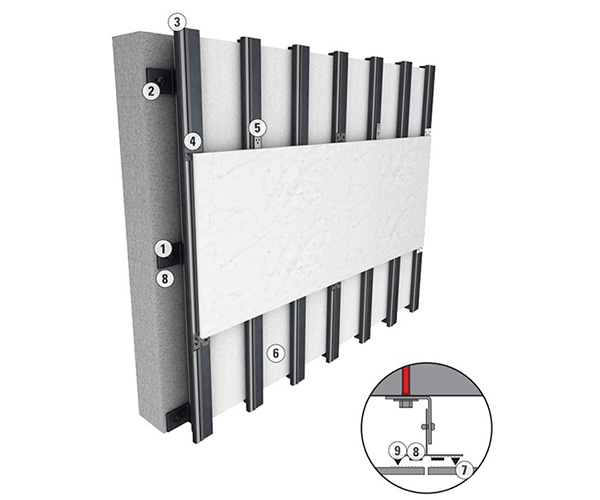 ADHESION SYSTEM FOR VENTILATED WALL CLADDING
The Micro T system allows the fixing of porcelain stoneware slabs of large dimensions as ventilated wall cladding. The system forms a ventilated facade with all the advantages derived from the presence of a cavity created by the metal substructure, which separates the stoneware slab cladding from the building structure.
Unlike the Micro Ω method, this system is adjustable. The slabs are assembled on the worksite using bi-adhesive fixing tape together with a hybrid high-elasticity permanent adhesive, providing invisible fixture for the cladding. It is also equipped with hidden brackets with 4 or 2 support points.
The system comprises external cladding in large format slabs, a ventilated cavity inside of which thermal and/or acoustic insulation can be inserted, a metal substructure in T shaped aluminium runners mechanically fixed to (adjustable) L shaped brackets, which are mechanically fixed to the underlying structure.
Due to the original features of the system and its flexibility, an ad hoc design is required for each project.

CHARACTERISTICS:
• Adjustable vertical T structure at 50 cm intervals
• L shaped brackets at 120 cm intervals
• Optional use of 4 or 2 point hidden space holders
• Optional use of Safety Clips
• No horizontal structure
• Maximum slab format 300 x 150 cm