MICRO SYSTEM T PLUS®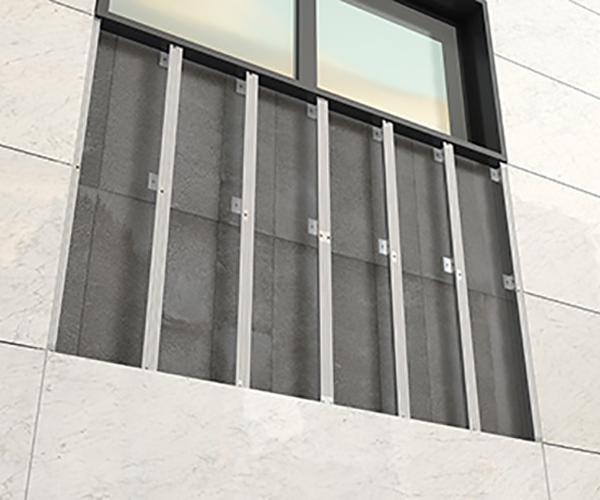 PATENTED SYSTEM FOR ADHESIVE FIXING OF VENTILATED WALL CLADDING
The Micro T PLUS system allows the fixing of porcelain stoneware slabs of large dimensions as ventilated wall cladding. The system forms a ventilated facade with all the advantages derived from the presence of a cavity created by the metal substructure, which separates the stoneware slab cladding from the building structure.
Unlike the Micro T method, this system uses mechanical fixing in elevation while the chemical-adhesive fixture of the cladding slabs on the metal substructure is conducted on the ground. The slabs are assembled on the worksite using bi-adhesive fixing tape together with a hybrid high-elasticity permanent adhesive, providing invisible fixture for the cladding.
The system comprises external cladding in large format slabs, a ventilated cavity inside of which thermal and/or acoustic insulation can be inserted, a metal substructure in T shaped aluminium runners mechanically fixed to (adjustable) L shaped brackets, which are mechanically fixed to the underlying structure, and a T-PLUS R substructure pre-glued to the slabs on the ground at the worksite.

Due to the original features of the system and its flexibility, an ad hoc design is required for each project.

CHARACTERISTICS:
• Vertical T structure at 50 cm intervals
• L shaped brackets at 120 cm intervals
• Adhesive microsystem applied on the ground
• Slabs fixed dry at height
• Integrated Safety Clip Plus
• No horizontal structure
• Maximum slab format 300 x 150 cm